I think this is my favorite Granville blouse yet! The cotton double gauze on this Crème de la crème woven is just luscious. It's so soft and a nice light weight. Great for summer and layered in the fall. I was originally planning on doing some sashiko stitching on the back yoke but decided the simplicity of this shirt is much more versatile for me right now. And I love how the cream looks against my skin. I'm using more cream in my palette for fall since I do find it more flattering than white.
I know it's election day but I voted what seems like ages ago (early voting rocks!) so I'm going to skip talking about that today other than "I'm with Her!" If you haven't already be sure to get out and vote today!
Pattern: Granville Blouse, Sewaholic Patterns size 10 with alterations, View B
Fabric: Crème de La Crème Cotton Double Gauze (currently unavailable) from Marcy Tilton
Construction wise this went together much like my last Granville Blouse. For more details view my first Liberty Granville where I wrote a more in depth review. I made a few modifications to my usual size 10. I narrowed the upper back (and collar), widened the sleeve and narrowed my cuff. I'm really glad I widened the sleeve as I can now roll them up comfortably .
I'm working on my sleeve sloper with Suzy Furrer's Drafting Classes (I'm taking her Patternmaking + Design: Creative Sleeves and Designing Your Wardobe: Drafting Tops right now.) I bought up a bunch of classes during the last sale. I ADORE those classes! I'm an affiliate but I really do love the platform. You can click on my sidebar for affiliate links to Craftsy. ⇒
As a mom with young kids it's the best way for me to continue my learning right now. My next dress shirt will be perfection!
I'm wearing the blouse here with a thrift shop sleeveless sweater shell and my Rust Culottes(+ my fav converse sneakers!) I've worn this with a navy sweater pencil skirt to work as well. It's really versatile. I'm already planning a 4th! I want an indigo dyed version for work.
I had an amazing weekend that I just have to mention! Saturday was my ASG Ft. Lauderdale Annual Meeting and Luncheon. I had such an amazing time! This was my first big event and I can't wait for this summer's Orlando National Conference. Everyone was so welcoming and friendly and the luncheon itself was delicious. If you're not a member check it out! I love meeting up once a month with my neighborhood group and you're welcome at any chapter meeting across the country. You can go to two meetings as a guest to check it out before joining.
I also got to meet Marsha McClintock of Saf-t-Pockets Patterns who gave a fab trunk show. She makes this really creative travel wear that has all these clever hidden interior pockets. I hate wearing a purse when we go out to events/travel so I'm making some up soon! Plus I got the accessory pack to make Christmas gifts.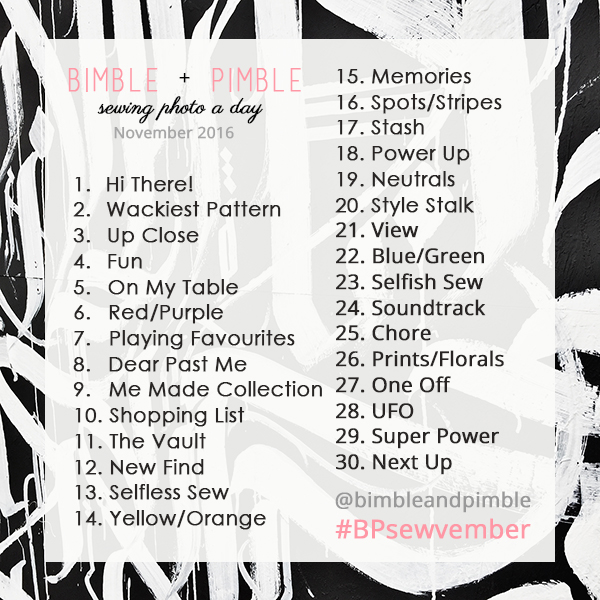 Then Sunday we went into the city for the Ft. Lauderdale Boat Show! What fun! We took the water taxi around, saw a bit of the show and then had lunch out at the Cheesecake Factory. The kids held out for quite a few hours considering it was more of an adult event. Just being out on the water made it a fabulous day! If you want to see some pics check out my Instagram. I'm doing the #bpsewvember challenge with bimble + pimble (Prompts are Above⇑) which is such fun!
Happy Sewing!