One of my goals this summer was to make my daughter Amelie and I matching dresses while she still enjoys dressing up with me.  I found a winner in the Colfax dress by True Bias.  Perfect easy and beach ready summer dress.
I bought both patterns (PDF's) earlier this spring knowing I probably wouldn't get to them for a while, since we were moving.  I had them all printed and cut out.  Ready to go for whenever I got the chance to sew.
My fabric search took a bit longer.  I wanted something cute enough for Ami but not too childish.  Plus I wanted it in a color palette we could both agree on.  Ami wears mostly pink and purple so I thought lavender would be a safe bet.
I checked out the Mood website to see what Liberty prints they had.  I bought the most beautiful silk Liberty fabric there for my Granville shirt.  They have a wonderful selection that is very well priced.  I think these lavender and white drawn flowers are just beautiful.  The subtle contrast fabric is small timepieces in cream and lavender. The poplin is very smooth and soft.  Comfort is always a big deal for my kids.   I was able to get both dresses out of 3 yards (+1 yard accent) with a bit leftover.
This pattern has really awesome directions.  Easy to follow and very thorough.  I love the cut in arm and skinny binding on these dresses.  I'll be using this binding technique on other makes.  The placket on the front is really well designed and the bottom accent hem gives it a nice clean finish.  I also took the extra time and used French seams on the interior of Ami's dress for comfort and serged the interior seams on my dress. What I like most is that this dress is sized 2T-10 in the kids (0-18 Women's) so I'll be able to make this up again as Ami grows.
I took these pictures before we headed over to the pool this weekend.  Some bribery is always needed lately for pics for the blog.  My kids don't enjoy posing like they did when they were little.  I had to agree to swim the whole time next to Ami and do what she did.  She wanted some extra mommy time. Not a bad deal! :)
Patterns: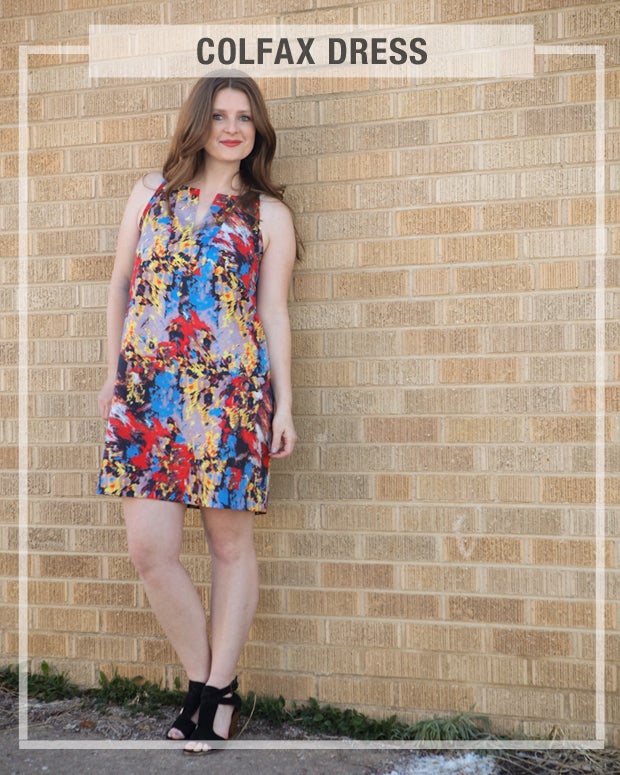 My Colfax Dress: Cut in a size 8, View B.  My measurements are 36/30/39 which is closest to the 8 at 36/30/38.  Since this dress is aline there is plenty of room still in the hip.
Amelie's Mini Colfax Dress:  Cut in a Girl's size 6, View B.  Ami measures in at 24/22.5/25 at 5 years old which was almost exact for the size 6 at 24/22/25.  Usually I size up when I make Ami's clothes so they last longer but I wanted this dress to fit perfectly, and it does!
Fabric:
Liberty of London Pani Gabriela Purple/White Cotton Poplin, 3 Yards for both dresses:
Liberty of London Heathrow Mauve Orchid Cotton Poplin Print, 1 Yard for accent and trim:
Here's my Colfax dress!  This is a perfect swim coverup. Elegant but comfortable!  I love that it has pockets- I always need someplace for my keys.   I'll raise them up an inch next time I make this since they're a little lower then I like.  I made no alterations to the pattern and the fit is spot on.   I thought I might need to lengthen the dress but I really like where it hits just above the knee on me (I'm 5'7″).
Love the neckline and the back view!  Mommy and Me matching dresses are just too cute!
Hope you're all enjoying the end of summer!  I have one week-and counting-until the kids start school!  Boy, do I need the break.  This last summer with both kiddos home with me has been a bit exhausting.  Looking forward to some more time to myself.   I'll soon be looking for a part-time job while the kids are at school.  I need to get a little nest egg going before I start my own business and it will be so nice to be around more adults.  I've been a Stay at Home mom for over 7 years now so big changes are coming.
Happy Summer and Happy Sewing!