I'm obsessed with this organic cotton french twill! I bought a few yards originally for my 1950's Beach Jacket and loved it so much I ordered more for these pants, a bra top and shorts. The fabric is a lovely lightweight twill weave in a creamy white which is just perfect for spring. After I fractured my ankle at the beginning of the year my big plan was to make a bunch of button tab pants for easy access with my boot/ankle bandage. Little did I realize I wouldn't be sewing right away. I don't need this functionally anymore but I loved the idea so decided to make a spring pant utilizing this feature.
This is my basic drawstring pant draft from Suzy Furrer's Designing your Wardrobe-Drafting Pants class on Craftsy modified to a larger elastic waistband and two side panels that run up the full length of the pant and overlap. This was a really easy mod. I just left my seam allowance at 1/2″ and added two folded over tabs that measure 1″ with an additional 1/2″ seam allowance. Easy peasy. I folded and pressed them and then constructed the full pant with side seams left open. I then attached my bands and topstitched. The top portions were pinned and stitched to mid leg and then the rest of the leg left overlapping. Added some button holes (super easy with my new sewing machine) and then attached my foldover waistband and inserted the 1″ elastic into the casing.
All the Details
---
Organic French Twill-59/60″
This fabric is combed cotton that is micro sanded for a luxurious feel. The end use for this fabric includes general apparel such as pants, shorts, skirts, and shirts.
Width: 59/60″ Wide
Content: 100% Organic GOTS Certified Cotton
Weight: 4.5 oz Weight
Care: Preshrunk 5% maximum
Made In: India
---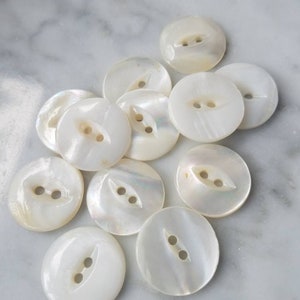 Vintage Buttons – Lot of 12 medium size 11/16″ natural mother of pearl , fish eye design
---
Designing Your Wardrobe: Drafting Pants on Craftsy
Learn to draft perfect patterns for well-fitting pants. Join design-school founder Suzy Furrer in using your new sloper to draft pants. Walk away with three new styles under your belt: casual drawstring pants, sophisticated palazzo pants and classic, flat-front tailored trousers.
---
I bought the buttons months ago from a seller on Etsy (my fav source for vintage trims) and saved a few for my 1950's bra top to match (coming soon!) I love how comfortable these are put still elegant. The two back darts make for less gathers and a better fit in back so I'll use that on all my elastic waist pants in the future. I'm wearing the pants in the images here with my favorite striped tee. I was hoping to get back into my white Keen sneakers for this look but no can do…orthopedic shoes for now!
On the Homefront
We had a lovely relaxing weekend. My husband finished our bathroom renovation and we got a new IKEA table and chairs for our Dining Room! I'm really excited for the new table because it will easily double as a cutting table for me at 39″x92″. I got some new cookbooks- Honeysuckle Cookbook and Lunch!– to experiment with this week too. With the kids at home lunches have gotten a bit routine- we needed to mix it up. My daughter has been helping with the prep as we try new recipes which is so much fun. I finished sewing my 1950's Beach Jacket and made a cute 1950's bikini top to match. Next up are the shorts. They're a vintage 80's pattern cut on the bias that I think is going to be super cute for summer.
I'm healing really well and walked up the stairs for the first time this weekend which was scary but exciting. I'm using a cane now when I go out but don't need it anymore at home. Still have a limp but slowly improving!
---
Here's a little sneak peak of my 1950's beach jacket pocket embroidery in the same organic cotton french twill!
---
Back soon with more makes. I made a beautiful tank out of my precious orange poppy print linen that I can't wait to share! Happy Sewing!