Check out this fabulous dress I made for my birthday last week! It's the Memphis Dress from the Sewing Workshop made up in the most gorgeous multi-coloured leopard print by Penelope. When my mom and dad went to Paris for their 50th Wedding Anniversary back in November they brought me back such lovely fabrics to work with! I'm one lucky girl!
This fabric is the coolest multi-coloured leopard print in my very favorite colors. I'm not normally a leopard print kind girl but this one is just gorgeous. Plus it matches my new haircolor perfectly.
It's got a beautiful soft hand and drape and what better pattern to show it off then the Memphis Dress from The Sewing Workshop by Linda Lee. I really wanted a simple look that would make the fabric the star of the show and this draped asymmetrical dress is perfect. You can't see all the lines with the busy print in photos but it has such pretty seam-lines. I'm already planning out another one in a blocked print.
At last years ASG Luncheon one of the ladies was wearing a dress using this pattern and I knew I had to get it. Her version was color-blocked and very striking. I'm looking forward to trying out some fun pattern and color mixing with this dress pattern. I wore this last weekend to celebrate my birthday out with my Husband and just love it. I need a few more!
All the Details
Fabric-
Multicoloured Leopard Print by Penelope from Tissus Reine Paris, France
Pattern-
The Memphis Dress by The Sewing Workshop
size XS (XS finished measurements: B 38/H 42)
Relaxed fit dress has asymmetric side flare, deep bottom band, back yoke with center back seam, long tapered sleeves and narrow hems.

The Sewing Workshop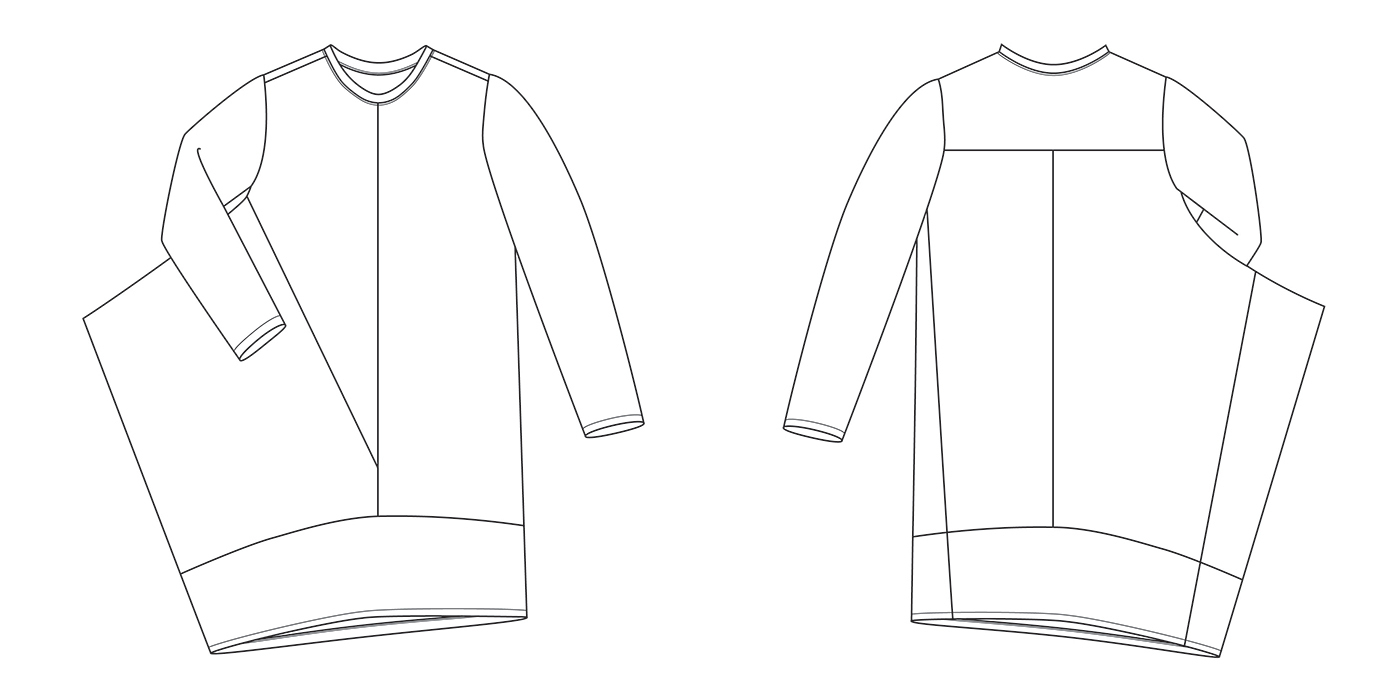 Construction wise this was a relatively easy sew. The instructions are easy to follow with great illustrations. The only tricky bit is sewing the side drape- and once you've done it it's easy to do again. I went with the XS, and am really glad I did. According to the size chart I should be in a Medium but after looking online I saw this was meant to be rather oversized and loose. So I went with the finished measurements and could probably size down a little bit more next time. The arms were still a little looser than I like. So size down if you want a more fitted dress.
I also cut down the front neckline. I hate having anything very close at the neck. It always feels restrictive, so I just marked how far down I wanted and drew a new curve. This is long sleeved but I always roll mine up a bit. I may make the next one 3/4 sleeve. It's Florida so long sleeves just aren't needed here. Another reason I love this in the drapey knit. It's oh so light and comfortable.
Back next week with some Vintage pants I made using a large Ikea curtain. I'm also sewing up muslins like crazy. Working on some self drafted patterns as well as fitting some more vintage patterns. Plus drafting a really cool Princess Seam Coat using Suzy Furrer's new Coat class on Bluprint. Happy Sewing!