I've had this make finished for quite a while but it's been just too hot to take pics.  I still probably won't get any wear out of this for a few more months, but I love it!  This jacket was made with the leftover yardage from my Deer & Doe Centauree Dress and while the pink was lovely I didn't want two pieces in my wardrobe that were so similar.  I decided to try a new shibori technique after collecting tons of seashells with the kids at the beach.  Instead of the traditional stone wrapping I decided to wrap the shells.  I love that if you look closely you can see the prints of the shells but from a distance it's a bit more abstract.
When I first showed this off to my husband and family they really thought it was hideous.  Mainly because I tried it on with what I was already wearing that day, a long dress, which didn't help the boxy shape.  I knew this silhouette would work with the right look, it just needs a slim pant and a bit more structure.  I love the boxy shape and the seaming details on this Burda blouse.  I wanted to use this pattern more like a jacket mainly because I knew it would need to be layered to work for me as the v-neck is quite deep.    I'm looking forward to making another version, maybe in a voile, to give it a completely different look.
Here is the fabric after the first madder dye, a light pink:
I used 298 shells for this project!
And here's what the fabric looked like wrapped before entering the dye bath:
And the results:
Fabric:  Colorgrown , Island Maze, 100% Organic Cotton grown in the US, from Organic Cottons Plus, leftover yardage after making my Centauree Dress.
Natural Dyeing:  The fabric was mordanted with Tannin, then dyed in the excess from my Madder dye bath, and then over-dyed after shell wrapping in a mixture of hibiscus tea, vinegar and henna, what I had lying around in the house.
Pattern:  Burda Deep V Neck Blouse 117  02/2014 in a size 40.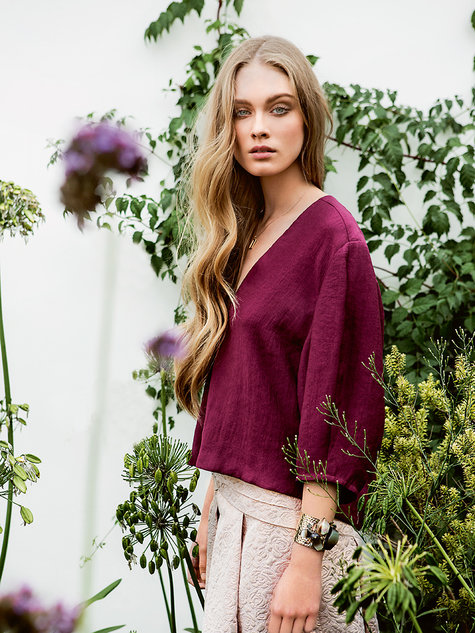 My favorite part of this jacket are the back yoke and pleats but I want to adjust the sleeves If I make this again since they are just so voluminous.  This is a perfect Florida jacket as I rarely need anything heavier than this except maybe two weeks or so out of the year.  In these pictures I'm also wearing my favorite pants- my indigo dyed jeans.  
Hope everyone is having a wonderful week!  I have quite a few projects in my queue.  I've *almost* finished my dress for my grandmother's funeral (sneak peek on my Facebook page) and decided to go ahead and make a matching jacket with the extra yardage.  I also just got in some new organic knits for some much-needed yoga pants for our morning walks to school.  Happy Sewing!