I'm back today with my final make (for now) using vintage Butterick 4659. (Links to the skirt and pants ) I wanted to give all the versions of this pattern a go since the others fit so well. I wasn't sure how the shape of this blouse would work – especially since it's shown open in all the images- so I made this up in some cute, but relatively inexpensive, flamingo print that I originally bought for mask making. I used up all my remnants making the blouse so I went out and bought a bit more to make a pair of matching shorts. Perfect Florida pj's!
This cotton, once it's washed up a bit, is so soft and lovely. It's a bit closer to medium weight at 4.5 oz and holds the shape really well. I used some leftover coconut buttons from Organic Cotton Plus and really love the relaxed, beachy vibe. I've made a ton of pj's during quarantine and it's so nice having pretty things to wear while lounging around on the weekends!
The shirt was super easy to construct-it's a camp shirt with facings. I was pleasantly surprised with the fit. It's nice and slim and fits me really well in the shoulder. I have pretty narrow shoulders and back which I usually need to alter but in this pattern I needed no alterations. I used Pam Howard's Craftsy class for construction. One of the reasons I wanted to make this up was to practice my construction. I've just started drafting my own dress shirts so I wanted to really master the sewing order before I make those one's up.
The shorts are self drafted off a pair I made a few months ago for MMM ( Day 25) using the pocket design I used on my daughter's Simplicity American Girl's Shorts. I just freehanded the design onto my sloper and love the cut in pocket. Plus it cuts down on bulk. I finished the edge with some avocado dyed bias for the pocket edges. Really simple shorts with a 2″ elastic inserted waist.
---
All the Details:
1970's Butterick 4659 Size 14 purchased from RoxyLynn2 on Etsy
Fabric: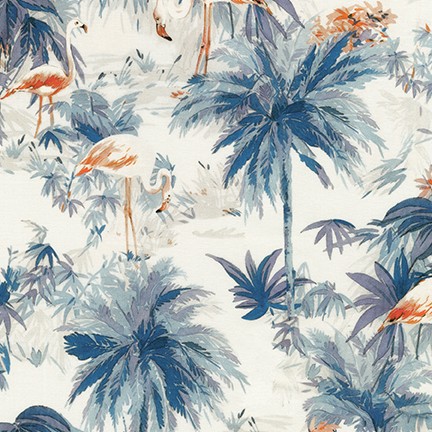 Flamingo Paradise Palm Vintage, Robert Kaufmann from Harts Fabric (out of stock) and amazon (still available).
---
You can see my little patio garden here in the pics. My favorite is my snow on the mountain that has already doubled in size. My neighbor Andie just gifted me some lovely plants you can see in the background in the smaller pots. They've been growing like crazy with all the rain we've had lately. She sells the most gorgeous plants on Etsy ( as well as some lovely jewelry that I've bought for myself!). You can check her out at The Lady Cove.
Back soon with lots more makes! Right now I'm working on using the Haslam System to draft up some vintage looks from Mrs. Depew. I just drafted out the cutest 1939 tennis shorts outfit that I can't wait to make up. I think I like drafting way more than sewing. It's just so much fun. Happy Sewing!