I fell for and bought this fabric ages ago from Marcy Tilton but couldn't decide what I wanted to make with this beautiful print.  My plan originally was to  make a two piece co-ords set, maybe pants and a jacket, to sew along with Ada's Two-Piece Setacular.  But with all the distractions of the start of school, sick kids and a death in the family everything got backtracked in my sewing queue.   After learning of my grandmother's passing I felt inspired to go ahead and make something with this fabric which reminded me of her.  I was treating the fabric like this precious thing that I was afraid I'd mess up, which is just silly.  My grandmother's practicality gave me the kick I needed to just get on with it.    So here's my two piece look,  albeit a bit later than planned.
I wanted to try making a mash-up of two of my newer patterns that are both Vintage Vogue from the 1950's.  I love the two piece bodice of V8687 but knew the pleats at the waist would not be flattering for me.  But V1137's skirt would be perfect.  I love the slim profile with the side kick pleats.  I wanted a longer dress to make the most of this fabric which graduates from a pure white with black blooms and then goes to the darker blue.  I thought the bodice piecing would be fabulous with some color blocking so I kept the top all white and cut the lower bodice as it fades to blue and carefully cut my skirt so it would end with the white as a border.
The jacket (size 40) was made with the last panel of fabric I had left with some very frugal cutting.  This Burda jacket was just the silhouette I was looking for without requiring much yardage.  The only alteration I made was to use set in pockets instead of welts.  Mainly due to fabric restrictions.  I had originally thought to put pockets in the dress itself and had cut them out but decided against it.   This jacket is perfectly practical for our weather here in Florida, anything heavier is just not needed.  I do miss my fall layering up north!
Patterns I used:
Dress-  Vintage Vogue bodice V8687 & skirt V1137
3/4 Sleeve Cropped Jacket- Burda 121 05/2011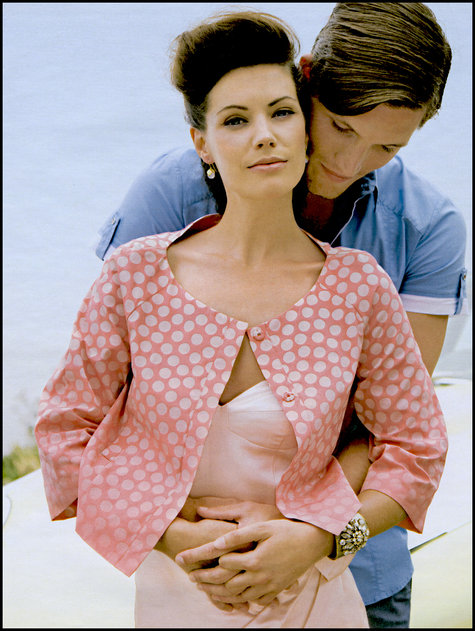 Fabric:
3 Panels of  Blooming stretch cotton  from Marcy Tilton
Construction wise I'm really proud of this make.  The interior hems for the dress and jacket as well as the zipper are all hand finished with pin prick stitches that are nearly invisible.  I also added two snap fasteners to the shoulder interior to hold my bra straps.  I cut  both patterns in a size 12 and the fit is spot on.  I was a bit nervous sewing it up as I didn't make a muslin but my size tends to be pretty consistent with Vogue.  I just know to cut a 12 even if the envelope recommends I should be at least a 16.
I'll be wearing this look in a few weeks for my grandmother's memorial ceremony in Minnesota.   My grandmother was a really amazing woman, both practical and creative, and I think she'd love this outfit.   But what she loved the most I think was when the whole family could get together.  We had some wonderful 4th of July and Christmas celebrations in Michigan and MN!  She purposely planned that her memorial service would be held a month after her death so we could all gather together.  I love that this gave us all time to really remember and celebrate her life in our own ways.